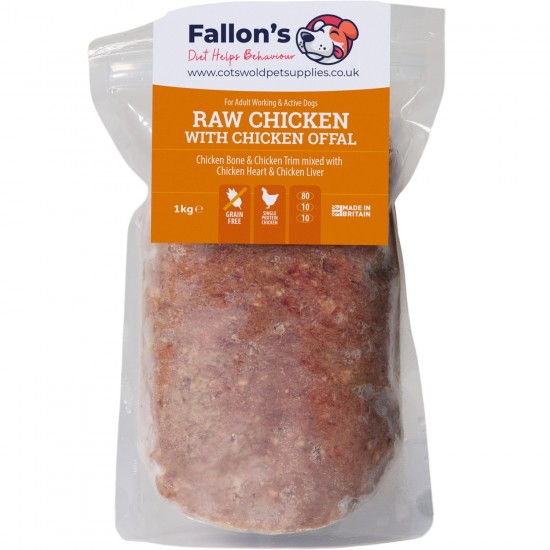 Chicken - Raw food for dogs with Bone & Offal 1KG
Estimated Delivery Time:
2-3 Days
Fallon's Raw Frozen food for dogs is made using single-source protein, produced in Scotland using locally sourced ingredients
80% British Chicken
10% Chicken Organ Meat
10% Chicken Bone
Raw Frozen food has great benefits including helping your dog's fur, skin, digestion and all-round general health.
For all breeds of dog
Grain Free
Feeding Guide:
If feeding dry kibble then gradually switch over which can take around a week.
However you can feed one of our high quality grain free dry foods along with Raw, but probably on different days.
How much to feed?
The rule with Raw feeding has always been a minimum of 2% of your dog's body weight a day. Here is a guide:
Dog's Weight
1-4 kg = 50 to 150 grams
4-10 kg = 150 to 300 grams
10-25 kg = 250 to 500 grams
25-45 kg = 500 grams to 1 kg
Above that weight then it 2% of your dog's weight a day
Defrost before feeding
Once defrosted treat it as any raw meat and you can keep it for up to 72 hours in a refrigerator
Always observe standard hygiene when handling raw meat
Composition:
Chicken with Bone: Chicken Carcass, Chicken Trim
Analytical Constituents:
Moisture 67.8%, Protein 15.5%, Fat 14.7%, Ash 2.6%, Fibre 0.2%.
Nutritional Additives:
None.
Delivery
Delivery by courier - please freeze as soon as possible after delivery