Salters Energy Dog Food - 67.7% Fresh Chicken 15KG
Estimated Delivery Time:
2-3 Days
Salter's Canine Energy is a nutritionally complete and fully balanced dog food.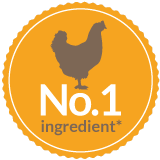 Good for:
Gains in lean muscle
Increased stamina and endurance
Build up after illness or due to previous poor nutrition
67.7% Fresh Chicken
Energy Food Ingredients:
Chicken Meat Meal, Ground Maize, Round Grain Rice, Chicken,Chicken Fat, Maize Gluten Meal, Dried Sugar Beet Pulp, Full Fat Linseed, Sunflower Meal, Extra Virgin Olive Oil, Dried Whole Egg, Yeast, Kelp, Cellulose Fibre, Monocalcium Phosphate, Iodised Salt, Methionine, Vitamin E, Choline Chloride, Zinc Oxide, Manganous Oxide, Vitamin C, Vitamin A, Niacin, Iron Sulphate, Calcium Pantothenate, Copper Sulphate, Vitamin B12, Biotin, Vitamin B2, Vitamin K, Vitamin B6, Vitamin D3, Vitamin B1, Folic Acid, Calcium Iodate, Sodium Selenite.
All constituent parts are in amount order.
Crude Protein 29% Crude Oils and Fats 20% Crude Fibres 2.2% Crude Ash 5.5%
Salter's Canine Energy represents the ultimate choice in high performance foods.