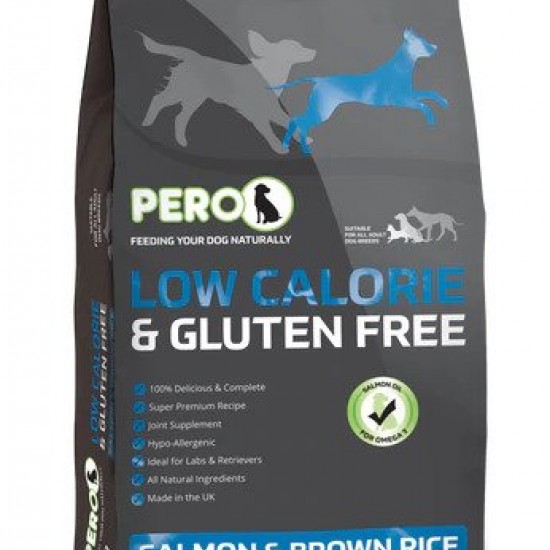 Pero Low Calorie Salmon & Brown Rice Gluten Free Dry Dog Food
Model:

Pero_LCSalmon

Model
Estimated Delivery Time:
2-3 Days
Hurry, this offer ends in:
Pero Low Calorie Salmon and Brown Rice has been enjoyed by Labradors and Retrievers over many years. The Pero Low Calorie food contains 15% less fat than similar products on the market. This gluten free low calorie recipe contains over 33% fish, and has been formulated to give your dog their optimum nutritional requirements. This is a wheat gluten free recipe, which makes it ideally suitable for those dogs with sensitive skin or digestive issues, without compromising conditioning. Being a recipe made completely from fish, it has a naturally high level of omega 3 which will enhance the coat appearance. This, complimented with a range of natural herbs and extracts provides a super premium and complete food for your dog.
____________________________________________________________________
Analytical Constituents:
Crude Protein 24%; Crude Fat 10%; Crude Ash 6.5%; Crude Fibres 3%.
Composition: Brown Rice (40%), Fish (33% – Salmon Meal 14%, Fish Meal 8%, Hydrolysed Salmon 11%), Beet Pulp, Salmon Oil (5%), Sweet Potato, Flaked Potato, Chicken Gravy, Minerals, Krill, Glucosamine (175mg/kg), Chondroitin Sulphate (80mg/kg), Cranberry (80mg/kg).
Additives (per kg): Vitamins: Vitamin A 15,000 IU, Vitamin D3 2,750 IU, Vitamin E 100 IU, L'carnitine 100mg.
Trace Elements: Zinc Chelate of Amino Acid Hydrate 33mg, Zinc Oxide 132 mg, Iron Sulphate Monohydrate 167 mg, Manganese Oxide 32 mg, Cupric Sulphate Pentahydrate 60 mg, Calcium Iodate Anhydrous 3.28 mg/kg, Sodium Selenite 0.22 mg. Antioxidants.