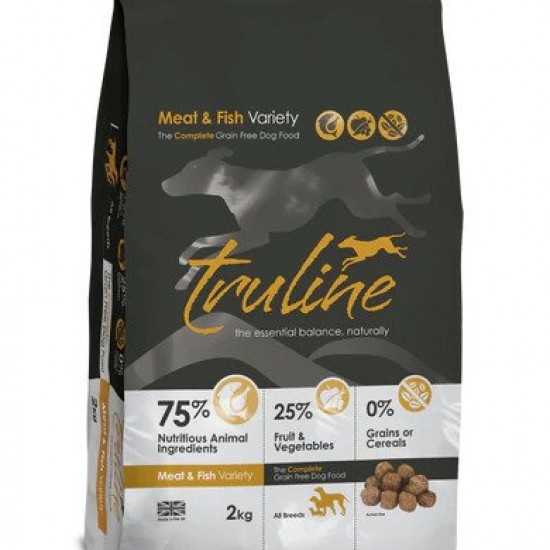 Truline High Meat Grain Free Meat & Fish Dry Dog Food
Estimated Delivery Time:
2-3 Days
Hurry, this offer ends in:
Since being introduced in 2016, Truline has won numerous awards and accolades which testify to its quality. Truline has won the coveted 'Brand of the Year'award by the World Branding Forum for two years in a row, for the 2017/18 & 2018/19 dry dog food category.
Fresh and dried meat and fish (including turkey, chicken and salmon) and dried whole farm eggs – provide supremely digestible protein sources to promote overall wellbeing, as well as to provide amino acid building blocks for muscle development and growth. We also avoid the use of proteins that are commonly considered to

cause allergic reactions and dietary sensitivities.

Norwegian salmon oil and refined chicken fat – enrich the recipe providing a balance of the essential omega-3 and 6 oils.

Selected vegetables (including carrots, green beans, cassava and sweet potatoes) – deliver a blend of fast and slow-release carbohydrates to ensure that your dog has the energy that it needs throughout the day to lead a happy and healthy life, without feeling continually hungry.

Naturally occurring vitamins, minerals and phytonutrients also promote overall health and vitality.

Oligosaccharides, yucca and rubbed herbs – provide natural prebiotics to promote the stabilisation of healthy bacteria in the digestive tract. The herbs have been meticulously chosen for their calming effect on the digestive system, encouraging a healthy relaxed gut.

Berries and Fruits – considered by many to be "super foods" due to their high antioxidant content, our fruits have also been carefully selected for their high quality and consistency throughout the year.

Yeast and malt extracts and chicken gravy – provide natural flavours that are guaranteed to satisfy even the most particular dogs.

We avoid all synthetic flavourings and sugars that are often added to many other foods.
Analytical Constituents (%):
Crude Protein 32%; Oils & Fats 20%; Crude Ash 9%; Crude
Fibres 3%.
Composition:
Fresh Chicken (16%), Dried Turkey (14%), Dried Chicken (14%), Fresh Salmon, (13%), Cassava, Sweet Potato, Pure Chicken Oil (8%), Whole Egg Powder (6%), Dried Salmon (4%), Salmon Oil (2%), Pea Fibre, Minerals, Prebiotic MOS, Prebiotic FOS, Seaweed, Green Tea, Yucca Extract, Glucosamine, Carrots, Grape Seed, Chondroitin, Spinach, Green Beans, Bilberries, Cranberries, Blackcurrants, Apple, Comfrey, Dandelion, Marigold, Chamomile, Peppermint.
Additives (per kg): Vitamin A 30,000 IU; Vitamin D3 2,200 IU, VitaminE 600 IU.
Trace Elements: Zinc 100mg (as sulphate monohydrate); Zinc 50mg (as chelate of amino acid hydrate); Manganese 20mg (as sulphate monohydrate);Copper 5mg (as sulphate pentahydrate); Copper 5mg (as chelate of amino acid hydrate); Iodine 1mg (as calcium iodate anhydrous); Antioxidants (stabilised with rosemary).