Walk Your Dog With Love - NEO Broadband Big Dog Harness with Leash
Estimated Delivery Time:
2-3 Days
Hurry, this offer ends in:
Is your dog taking you for a walk? Tried lots of other products that claim to stop your dog pulling?
Give the Walk your Dog with Love harness a try with Full Money Back Guarantee. See Return Terms
Stop pulling

No choke

Suitable for Large breeds of dog

Leads from the front unlike traditional harnesses

6 Foot Leash is permanently attached

Gives you more control

Easy to put on

Light & Comfortable​

Soft Silky material in a range of colours
​
​Detailed Description and Sizing
The NEO AIO is our best selling Broadband dog harness ... with the leash built right in; an All-In-One Wonder. For large breeds
The result is the lightest and most responsive front-leading dog harness ever. It sets the new standard for Dog Walking Pleasure.
By joining the harness and leash into one unit we eliminated the leash's heavy snap bolt and the harness's metal attachment ring. This means no more snap bolts to bonk your dog's legs and nothing weighing the front of the harness down; important when leading from the front.
The leash part is 6 feet long, and has our big Nor'Easter handle, which makes getting your hand into it easy.
Like other finely engineered or professional grade tools, The NEO 'just feels better'. It's the next best thing to your dog being off leash.
Light and Responsive, The NEO AIO is the lightest and most responsive front-leading dog harness ever.
By eliminating all that weight, it is also more comfortable and light-on-your-dog. The NEO harness is for those humans, and dogs, who appreciate the difference the best equipment and tools can make.
The NEO is made of durability and strong (3800 pound test) Nylon webbing. Includes 3M Scotchlite reflective material.
MORE CONTROL: It leads your dog from the front to give you steering. Steering means control - like a horse is led. It makes any dog walk a pleasure. Walk Your Dog With Love.
NO PULLING: Because it is not rear-attached (like a collar, choker, or old-fashioned dog harness), you don't trigger off
your dog's natural "dog sled team" pulling instinct. It stops a dog from pulling.
NO CHOKING: It is not around your dog's throat, so there is no risk to your dog's neck and so you don't hurt your dog. Dog
collars and chokers are just not a friendly - or necessary - way to walk your best friend. It is time for compassion. See
more about choking here.
EASY ON: You don't have to 'figure it out'; no more leg lifting dance. Just put it over your dog's head and 'click'. Easy.
COMFORT: No more hard and heavy rings, sliders, or sharp sewn areas that chafe and rub your dog. Also, because it adjusts
in 360 degrees, it fits better, so it works better too.
NO METAL: Because there are no parts that might corrode, this makes The NEO perfect for 'salty' environments like near the
ocean/sea or roads that get salted in the winter
MADE IN THE USA, DOG FRIENDLY ENGINEERING, ATTENTION TO DETAIL, THE HIGHEST QUALITY MATERIAL & HARDWARE
The heart of each NEO dog harness is 3800 pound test Nylon webbing. We use Nylon for:
great strength to stand up to large accelerating forces
lower stretch quotient than other types of webbing, because if the harness stretches it won't work
extreme durability to withstand constant pulling
does not absorb water, so it doesn't get stinky
easy-to-clean-so your dog can look like the lady or gentleman it is.
The pull-points are all double reinforced: They are sewn with Industrial strength Tex 70 nylon thread-for the strength to
stand up to a pulling dog, and with a high stitch-per-inch count for added resilience and durability.
To protect the dog's skin and eliminate chaffing and rubbing, the harness is engineered so all the finished ends face away
from the dog, and importantly with NO hard metal rings, sliders, and inflexible doubled over and sewn webbing to touch the
dog.
For extra security the buckles are Acetyl plastic which is a strong, durable, stable material - versus nylon plastic
buckles, which are prone to cracking and breaking because they are sensitive to both moisture and temperature variations.
The integrated leash part is 6 feet, and it has the same large Nor'Easter handle as our traditional leashes.

SAFE: It has 3M Scotchlite reflective material for nighttime safety. Be seen in a car's headlights 1000 feet away.
SIZE CHART: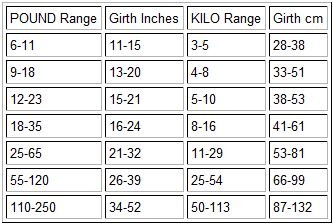 Walking your dog should be fun - why Front Leading?